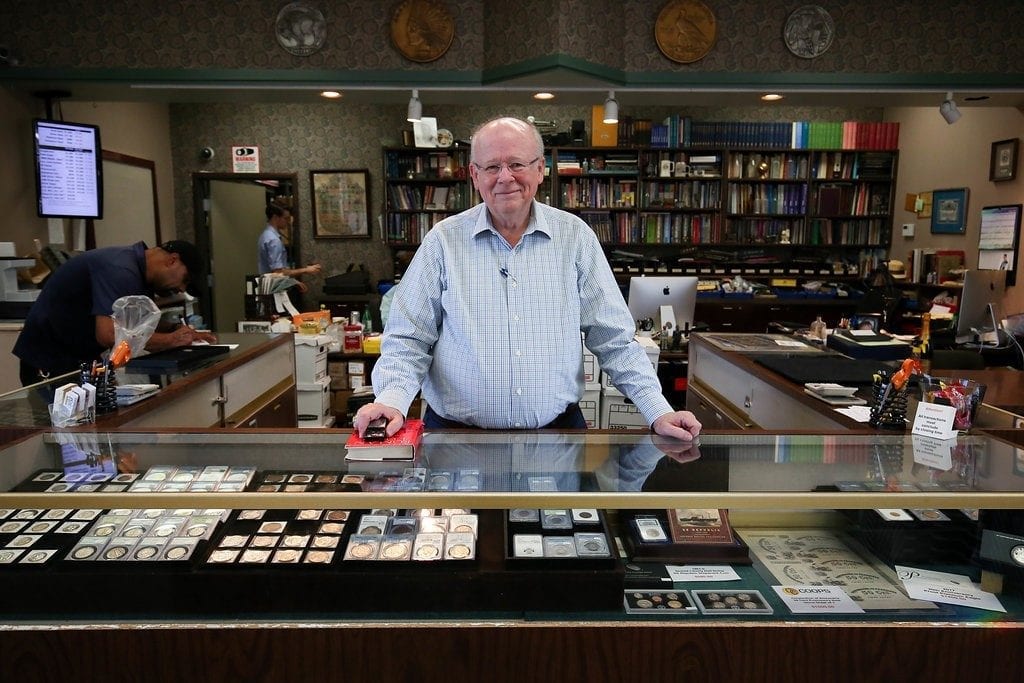 Randy Briggs of Redlands, owner of
 Coops Coins
 in Redlands, was awarded a 50-year membership pin by the
 American Numismatic Association
 at the organization's 126th-anniversary banquet and awards ceremony Friday (Aug. 4) in Denver.
Briggs was one of 10 such awardees in attendance at the ceremony, which was part of a five-day conference for numismatists (people who collect coins and paper money). Two men in attendance received 70-year membership pins. Briggs attended the ceremony with his wife Lauren, who co-owns the shop.
 "This recognition shows he is devoted to the hobby, and not just to the hobby, but to the association and to promoting numismatics," said Cary Hardy, the ANA membership director.
Briggs started collecting about 60 years ago, but according to the membership rules of the ANA, you must be 18 to join. Briggs joined as soon as he was old enough. "To a minor degree I started around 8 or 9 years old," he said. "I don't think I got serious about coin collecting until I was in early my teens."
The first thing he collected was the Lincoln cent. "It's what everybody collected in those days," he said. "I went through my parents' change. In the '50s it was still possible to find things in circulation. At some point we decided the best thing to do was to go to the bank and buy a $50 bag of cents and go home and go through them. I remember when my parents got their first wall-to-wall carpeting installed. Dad brought a bag home and dumped it on the living room floor. There's 5,000 coins in a bag."
His biggest find as child was a 1909 Victor David Brenner designed cent, which he found in circulation, and "was very rare," Randy said. "Most of what I found were coins from 1934 through 1958. Ultimately I had 50 each of all the dates and mint marks from 1934 through 1958. It was fun, always hoping to find early ones from the 1930."
Briggs, a life member of the ANA, joined in 1967, when, he says, there weren't a lot of people joining and there weren't a lot of collectors. "You have to be serious about it," Briggs said. "I've known lots of people who have joined the ANA and been a member for two or three years. It certainly indicates a commitment to the hobby and the organization."
According to Hardy, the ANA was founded in 1891 and has about 24,500 members. Headquarters is in Colorado Springs, where there has also been a money museum since 1967.
"When I'm with numismatists, which I am on a regular basis, and I say I'm a 50-year member of
the ANA, that says something."
While Briggs was at the conference, he bought an 1836 Gobrecht silver dollar, which he will put on display in his shop. Only 1,000 were made, and those were during a 36-year period starting in 1804 where no other silver dollars were minted. Its value is about $11,000. "I like to buy an extremely valuable coin every once in a while so my customers have a chance to see it," he said. "This one is exceptional because it's rare in numismatics." Coops Coins is at 21 E Redlands Blvd. in Redlands.