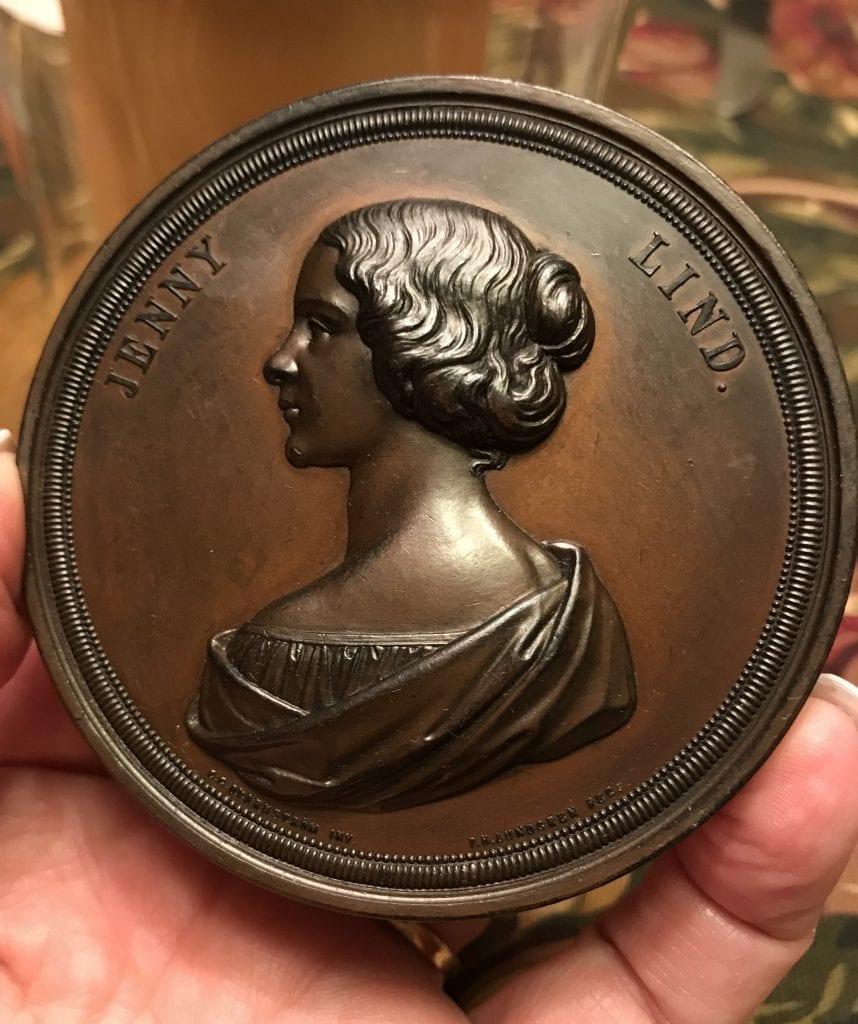 If you haven't seen the movie "The Greatest Showman," make sure you don't miss out!
This beautiful movie captures aspects of P.T. Barnum's fascinating life, including his partnership with Jenny Lind – The Swedish Nightingale.
Barnum met Jenny Lind while he was touring in Europe.
Lind was already an established singer;  however, she had decided to retire at the age of 29 when she met Barnum.  At this time, "Lind fever" was reaching full pitch. Her image was added to a variety of memorabilia to fulfill the public's love of this singer.
On display at Coops Coins, you will find an 1850's Fisherville Glassworks whiskey bottle with her portrait on it. You will also see a beautiful high-relief bronze medal featuring the bust of Jenny Lind and a letter written and signed by her.  It is fascinating to watch the movie and then to see pieces of real history right before your eyes!
Lind's singing talent was discovered early at the age of 9, and she was invited to join the Royal Dramatic Theatre to study with masters.
Her singing was described by the German musician and composer Clara Schumann as "com[ing] from her innermost heart; it is not striving for effect, no passion which takes hold of the hearer, but a certain wistfulness, a melancholy, which reaches deeply into the heart ...The impression is caused by the purity and simplicity which underlies her singing...Every tone she produces is sheer beauty."
P.T. Barnum presented Jenny Lind an offer that could not be refused -- he would pay her $1000 a night for an American tour consisting of 150 cities. Randy Briggs of Coops Coins points out how astronomical that amount was.  "That would have been $60,000 per show in today's money," said Briggs.
Barnum's tour with Lind was a risky business venture, so he set out to promote her unlike he had done with any previous act.
Before Lind set foot on American soil, the people were enraptured with her. Barnum's public relations blitz was highly rewarded. After her first concert, the New York Tribune published this review, "Jenny Lind's first concert is over; and all doubts are at an end. She is the greatest singer we have ever heard."
We at Coops Coins hope you enjoy seeing history come to life as much as we do! Visit our store located at 
21 E Redlands Blvd
 from 10am to 5pm (most days), we would love to chat coins with you!