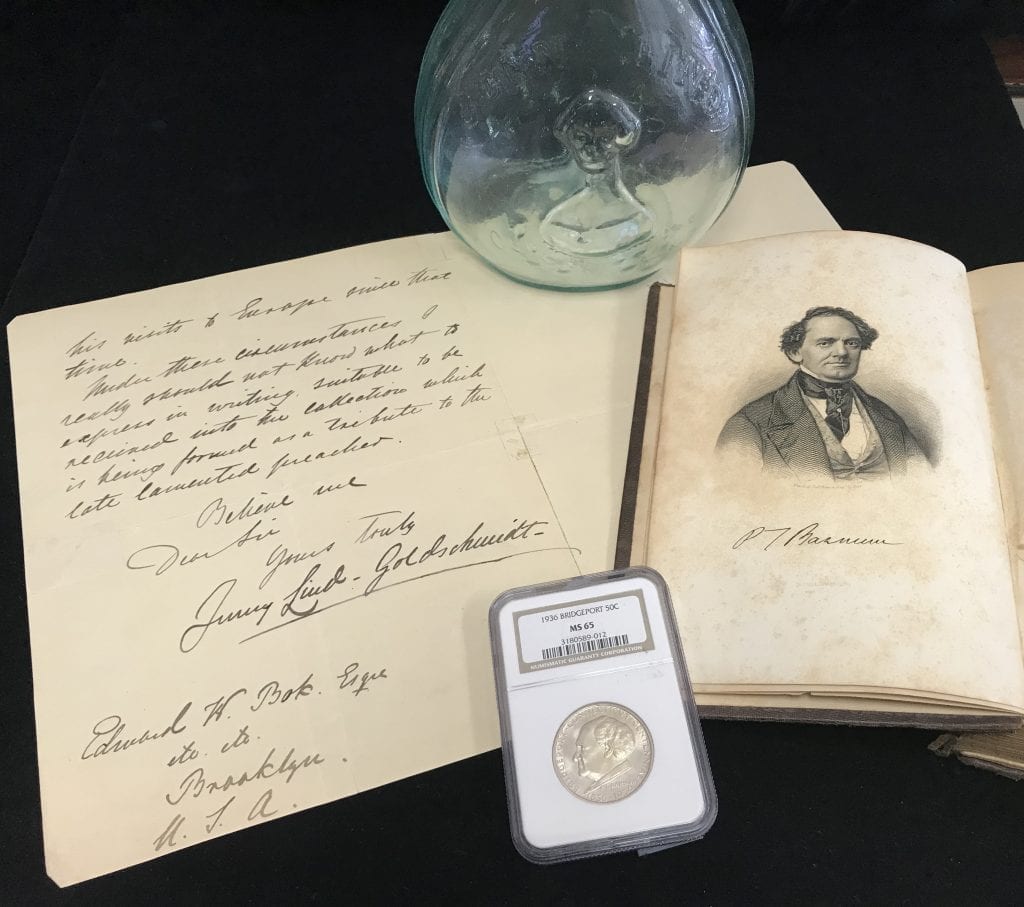 Film meets real life
Many of you may have already seen this popular film, "The Greatest Showman," which tells of the life of P.T. Barnum, the 19th-century promoter who invented the "business of the show!"  The songs are exciting, the dancing is athletic, and it is a beautiful movie to watch!  Today, we remember Barnum's connection to the circus; however, his early years were spent creating an American Museum of Living Creatures featuring unusual people, acts, and performances in New York City.
Coops Coins owner, Randy Briggs has created a magnificent display of P.T. Barnum items.  Currently available for sale is a Commemorative Half Dollar made in 1936 for the Bridgeport, Connecticut, Centennial displaying the head of Phineas Taylor Barnum. "Barnum was the most famous person who lived there," shares Randy Briggs.  "They made 25,000 of these original pieces."
Coined, Penned, & Promoted
The coin, which is now available at Coops Coins, is a certified MS 65.  Included in the display, you will see a first edition of P.T. Barnum's autobiography.  "Barnum was such an incredible promoter that he penned this auto-biography that was authored by "Himself."  The book was originally published in 1854.  Barnum continued to put out new editions and modify the content.  It was said that by the 1880s, there was only one book available that exceeded the number of copies in print -- The New Testament!" shared Briggs.
The Greatest Showman
Barnum was above all, a showman.  He dipped his foot in many different professions including owning a grocery store, running a local lottery, and editor of a newspaper.  The latter profession saw him arrested for libel; however, he was so popular that he was allowed to continue writing his paper from inside his jail cell!  Later in life, Barnum would run museums, circuses, traveling concerts, and become Mayor in his hometown of Bridgeport, Connecticut, in 1875.
One of Barnum's most famous discoveries was Tom Thumb -- a little person standing just over three-feet tall.  Barnum dubbed him "General" and later "Italian Duke."  Tom Thumb starred in many of Barnum's shows.
"The Greatest Showman" also highlights Jenny Lind who was known as the Swedish Nightingale.  To read more about her life and the other unique items on display at Coops Coins, please read our next blog!