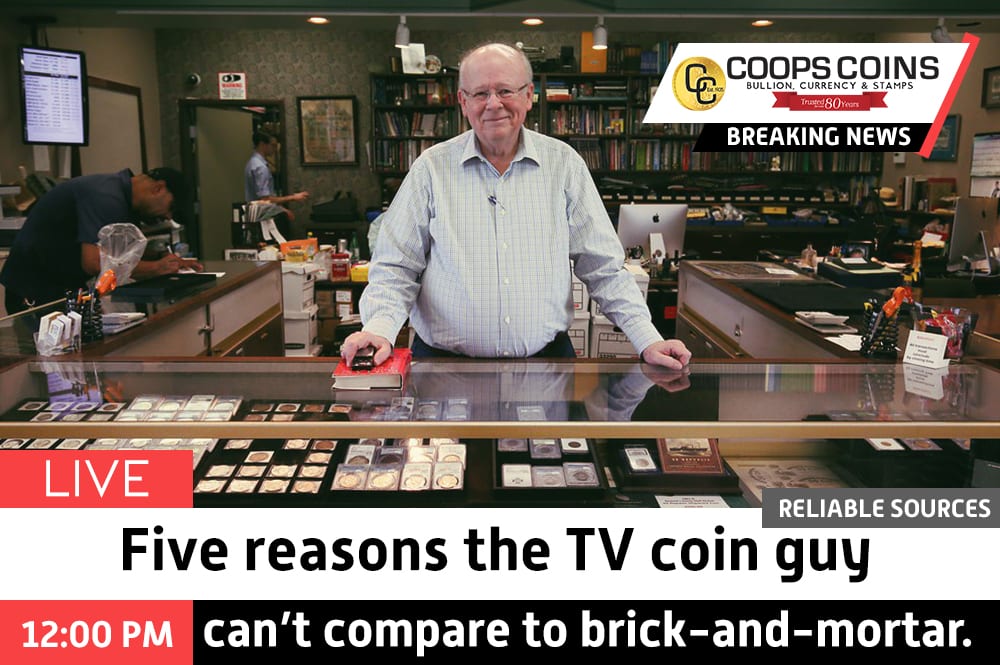 Online and TV ads are saying exactly what you want to hear: The coin you thought might be valuable is worth a fortune.
Maybe it is.
But the best way to find out is by walking it into a local shop and talking face-face with an expert.
1. You are not their priority
People are getting "sold" by these mass marketing companies all the time.
Their goal is to get product into your hand, not to start a relationship with you as you embark on your new experience as a collector. Their priority is not earning and keeping your trust.
People who want to get into collectibles should go to their local coin shops. Small business owners rely on their reputation, so they are going to give good, honest service.
2. Who do you think is paying for those bigs ads?
Of course, it's the customers. The expense of airtime or print space gets tacked on to the price tags on the coins. Anything that's advertised on TV you can buy at your local coin dealer for a lot less.
3. The ads are misleading
People see items like theirs on the internet and almost always assume the most valuable number in the column is what they'll get. There are small differences among stamps and coins, and there are specific ones that are valuable and it's because they're rare. Owners of long-running shops -- such as Coops owner Randy Briggs, with 55 years of experience and training -- have extensive knowledge of actual value.
4. Some companies are downright scam artists
One trick is to charge much more than the real value for a collectible. Then the collector later wants to sell it and the place is either gone or it doesn't buy what it sells. If that collector had bought from a brick-and-mortar shop, he could have bought it for less and been able to rely on the seller's full attention if he returned later with questions or needs. Look for a shop that's been there for years. It's still there for a reason.
5. They hurt collecting on the whole
The general public is so susceptible to these Harold Hills of the coin business, would-be collectors and sellers often take their anger out on collecting. "I'm never going to collect any coins again!" they say. And they miss out on a great hobby.
"A little company in a little town -- don't assume we're not on par with the big guys on Wilshire Boulevard. The truth is my husband's knowledge surpasses most dealers in the country. There are people who have expertise in a single area, but no one who has the broad base knowledge he has. He has colleagues calling him from all over the country for his input because he has the historic expertise to evaluate it beyond the value in the catalogue."