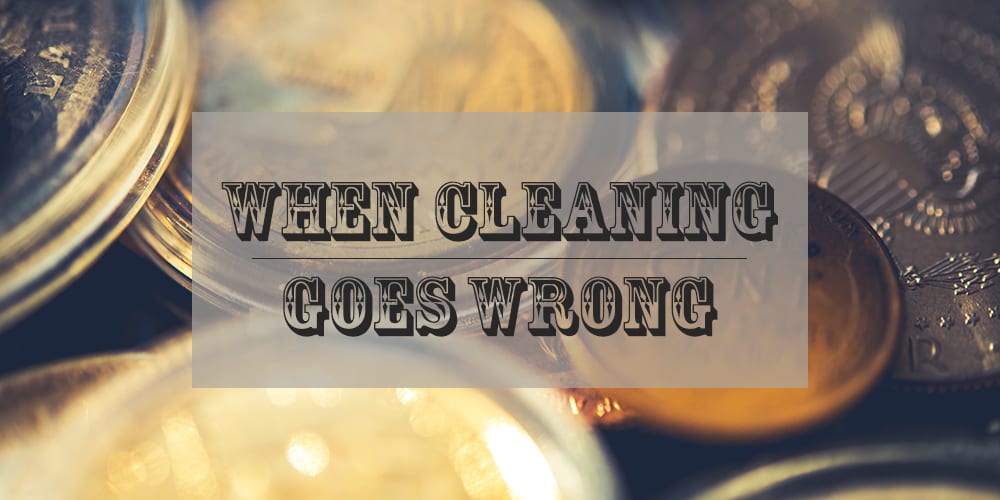 One of the most common questions we get at Coop's Coins is how do I clean my coins. And our immediate answer is always DON'T. We hope we haven't startled anyone, but it is essential that you do not clean your coins. When someone engages in coin cleaning what they are usually doing is damaging the coin with small scratches and also lessening the value of the coin. How sad is it to have your coin collection all ready to go to and about to be appraised. But before you leave the house that nagging thought comes up - I should clean these up a bit before bringing them. It's the same thought processes that go off when you have someone coming into your home. I need to clean this place up! And where we all feel uncomfortable with the idea of letting someone in your home to see your piles laundry or the dishes in the sink, we still ask you to please not clean your coins. When you do, you are essentially wiping away the natural beauty of an aging coin. The oxidation and toning are what can make a coin have value. You can also put small marks on your coin that may not be visible but, when inspected by an expert are evident.
The only time and we do mean the only time that you may want to clean your coins is when you are helping a new coin collector start their collection from circulated coins. Some coins may have some debris on them that you will want to get off. Please never clean old or inherited coins. But if you find yourself in this situation, here is how you can help them.
After washing your hands with soap, place a fluffy towel over your work space. Fill one plastic container with warm water and just a little bit of mild soap. Fill a second plastic container with distilled water. Taking one coin at a time, immerse the coin in the soapy bath. Work any dirt or sticky substance from the middle of the coin to the outer edge with your finger. Rinse the coin under warm running water until all soap is gone. Finally, swish the coin in the distilled water by holding only the edges of the coin and place on the towel to dry. Make sure your coins are thoroughly dry before storing them. Again, don't touch the face of the coin when storing it.
We hope that this blog has helped you. If you have any questions about your coins, please feel free to call or come in our store. We always have someone available to speak to you about your collections.